Air conditioning brings comfort to our homes, but the appearance of outdoor AC units can sometimes be an eyesore. That's why we're here to guide you through building an aesthetically pleasing and functional cover for your outdoor AC unit. Not only will this cover hide the unit from view, but it can also serve as a safety barrier, especially if you have curious toddlers around. We'll take you through two different approaches to achieve this: building a slat fence and constructing a three-sided box.
Building a Slat Fence to Conceal Your AC Unit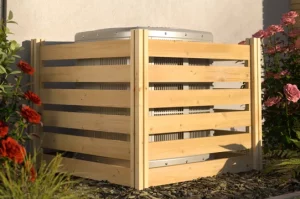 One effective method to conceal your outdoor AC unit is by constructing a slat fence around it. This not only provides ample airflow but also complements your outdoor space. Here's a step-by-step guide to creating a slat fence cover:
Gather Your Materials: For this project, you'll need 1×3 pine boards for the fence slats and four by four by eight pine posts for the fence posts. Consider using treated lumber or cedar for outdoor durability.

Preparing the Posts: Cut the four-by-four posts to a suitable height. Dig holes for the posts, ensuring proper clearance from the AC unit according to the manufacturer's specifications.

Sanding and Staining: Sand the posts and apply a stain and sealer for protection. Make sure to choose materials that withstand outdoor conditions.

Post Protection: Utilize products like Fence Armor to protect your posts from ground line decay and potential damage from lawn maintenance tools. Install post protectors and caps for added longevity.

Assembling the Fence: Attach cleats to the posts and secure the slats to the cleats. Leave space for proper ventilation around the AC unit. Stain and seal the slats for durability.

Finishing Touches: Add decorative post caps and finials for a polished look. With these steps, you'll have a stylish slat fence that effectively conceals your AC unit.
Crafting a Three-Sided Box Cover for Your AC Unit
Another approach to covering your AC unit is by building a three-sided box enclosure. This design balances functionality with visual appeal. Here's a breakdown of how to create this enclosure:
Gather Materials: You'll need pressure-treated deck spindles and 1×4 boards for this project. Ensure you have the necessary tools and follow your cut list.

Frame Construction: Create the side panels by attaching upright spindles to the 1×4 boards. Connect the side panels with front-facing boards, leaving adequate clearance around the AC unit.

Attaching the Cap: Secure additional 1×4 boards as caps on top of the side panels. This creates a clean and finished appearance for your enclosure.

Finishing Touches: If using pressure-treated lumber, allow it to dry before applying a finish to enhance its appearance and durability.

Installation: Set the assembly in place by digging holes for the legs. Make sure the entire build remains level for stability.
Conclusion
Whether you opt for a slat fence or a three-sided box, creating a cover for your outdoor AC unit is a practical and visually appealing solution. By following these steps and customizing them to your specific AC unit and outdoor space, you can enjoy the benefits of air conditioning while maintaining the aesthetics of your home.
Remember, always prioritize safety and follow manufacturer guidelines for proper clearance and ventilation around your AC unit. With these DIY solutions, you'll have a more pleasant outdoor space that blends functionality with design.